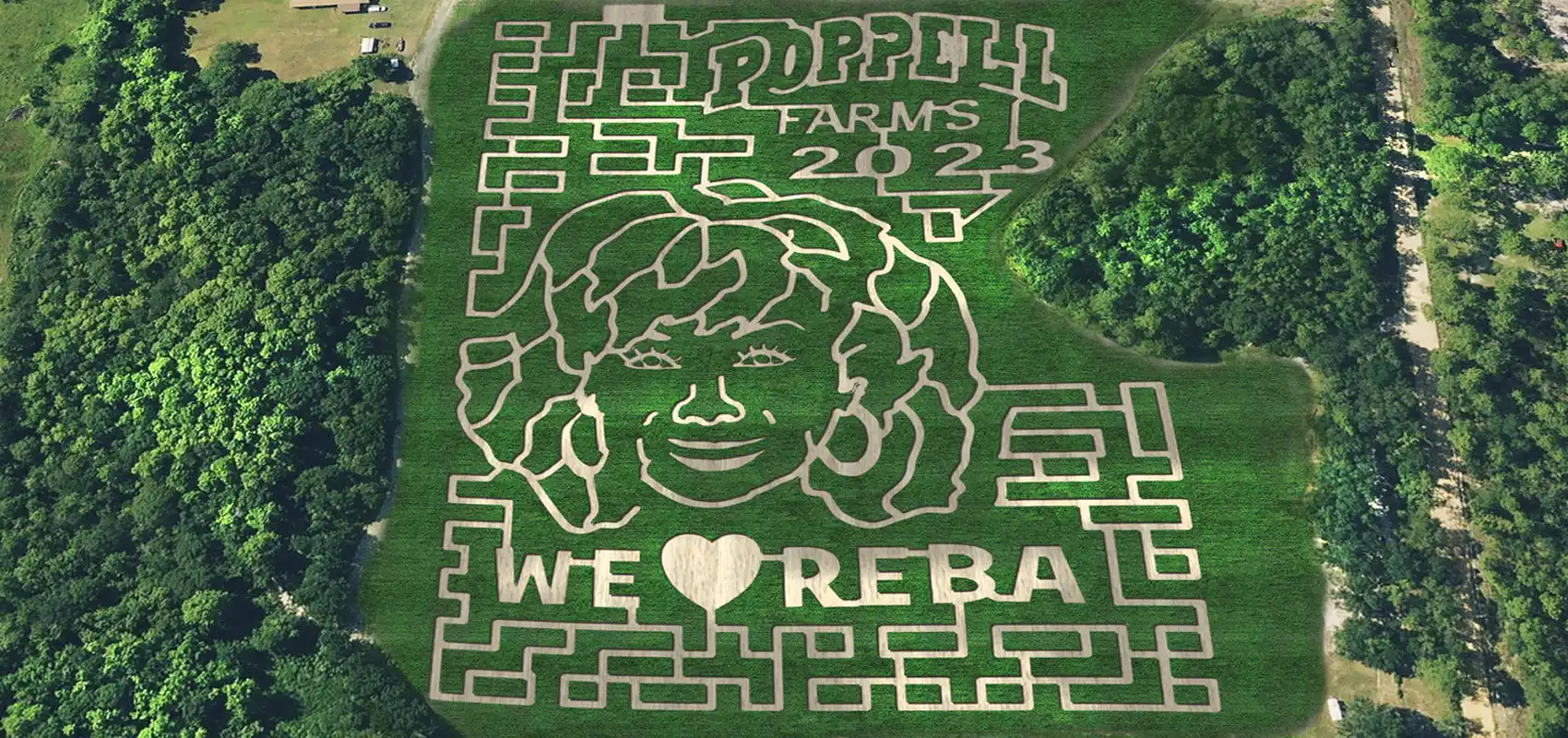 All about Reba
In celebration of the October release of Reba's upcoming lifestyle book Not That Fancy: Simple Lessons on Living, Loving, Eating, and Dusting Off Your Boots and companion album Not That Fancy, Poppell Farms is honoring the long-time legend in our 10-acre maze.
"While l admit being in a maze is one of the more unique things I've ever been invited to be a part of, I couldn't be more excited to be involved with some of the things that matter most to me – farming, family, and friends," said McEntire. "Growing up on a ranch in Oklahoma, I know how important agriculture is and I love being involved with something that brings more people out to farms across the country for good wholesome fun!"
This is an exciting time to be working with Reba and Poppell Farms is thrilled to honor her in our maze design this year. Our farm and maze are all about providing wholesome family fun and lasting memories, and we know those things are just as important to her. Come on out and get lost this fall!
10-acres of aMAZEing Fun!
Getting lost in these towering sorghum stalks is a BLAST at Poppell Farms! Our 10-acre maze is open for a daytime adventure. Feeling brave? Come back at night with a flashlight for slightly spooky fun (not haunted).
Never heard of sorghum? Well, it's a cereal grain that grows tall just like corn does. It is used for sweetening (sorghum molasses) and more. In the United States, sorghum is used as livestock feed. It's a popular crop to grow within the drier regions of the States because it is drought resistant.
Join us for our Fall Festival! Get lost in our 10-acre maze…enjoy fun family-friendly 20+ attractions…make furry friends at our petting farm … and pumpkins galore!
Follow us on Facebook for Special Events and updates!