Welcome to Poppell Farms!
We are a real working farm in South Georgia — growing and selling fresh produce. In the Fall, we open to the public with a 10-acre maze, 20+ attractions, a petting farm … and pumpkins! It's homegrown family fun just a short country drive from you!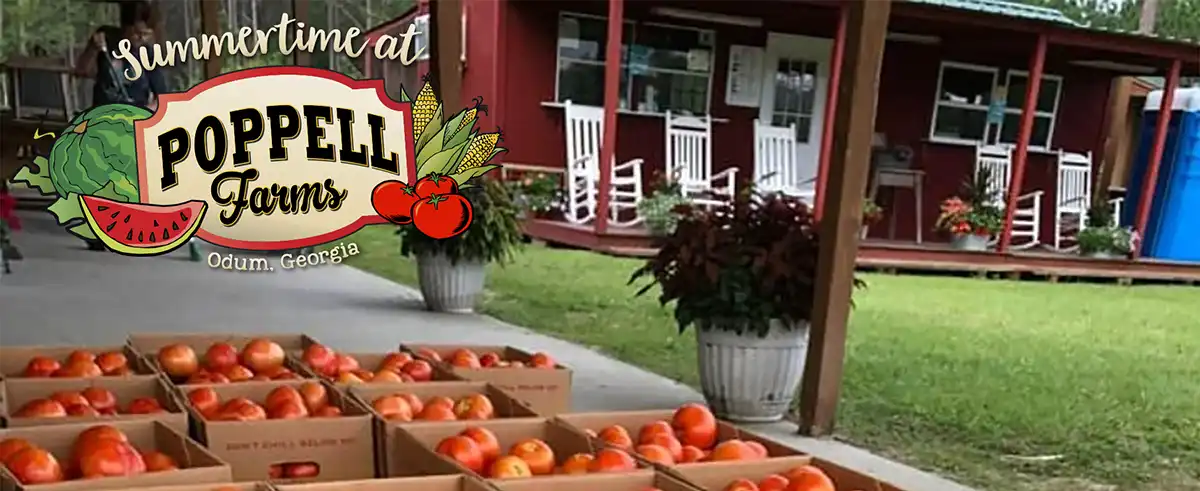 Farm Market: Now Open!
Spring and summertime are delicious at Poppell Farms! We are stocked with local Vidalia onions, sweet watermelon, cantaloupe, fresh produce, fresh apple bread, and more!  Enjoy lickity split sweets, hand-dipped ice cream, milkshakes, and desserts.
We've partnered with another South Georgia farm, Hunter Cattle Company in Brooklet! We now carry a full line of their Georgia grown grass-fed beef, pork and chicken. All natural!
Open Mon – Fri 8am-6pm | Sat 8am-5pm | Closed Sundays
NEW!

Poppell Farms Online Store

Stocked with a large variety of packaged goods such as jellies, jams, pickled goods, salsas, sauces, honey, and salad dressings. The same goodies that we sell in the Farm Market but available online all year long. If you're nearby, you can order and mark it for store pickup. Sorry, shipping is available only within the continental United States. Go to: Online Market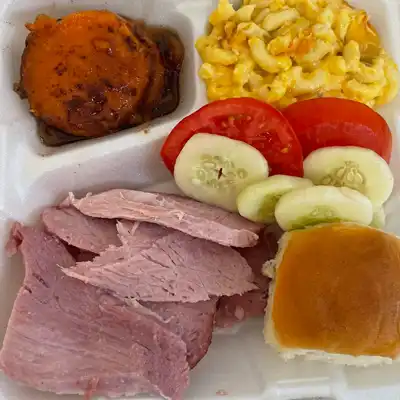 From the Kitchen
Come to the farm for a home-cooked meal!
Open Tuesday – Saturday, 11am to 1:30pm.
Entree plus fresh veggies, served with sliced tomatoes, cucumbers, roll and drink. Sandwich selections also available, plus ice cream, milkshakes, and (groan) desserts. Menu subject to change. Choose take out or stay to eat with us here at the farm! Get daily menu on Facebook.
Preview of Fall Fun 2023 …
We're already planning fresh-air fun for Fall! The 10-acre maze will be open for daytime adventure, and if you're not a fraidy-cat, you can brave the Haunted Maze. (It is really dark but not haunted! Shhh. Don't tell! Kid-friendly fun!)  Hayrides and the Pumpkin Patch will be open during the daytime hours also! Areas of the farm are lit for visitors to enjoy the jumping pillows, cow trains, playground, petting farm, games, and more. Get the details!
No smoking (including vapor) • No alcohol • No pets (Licensed Service Animals only)
We accept VISA, MasterCard, American Express & Discover.