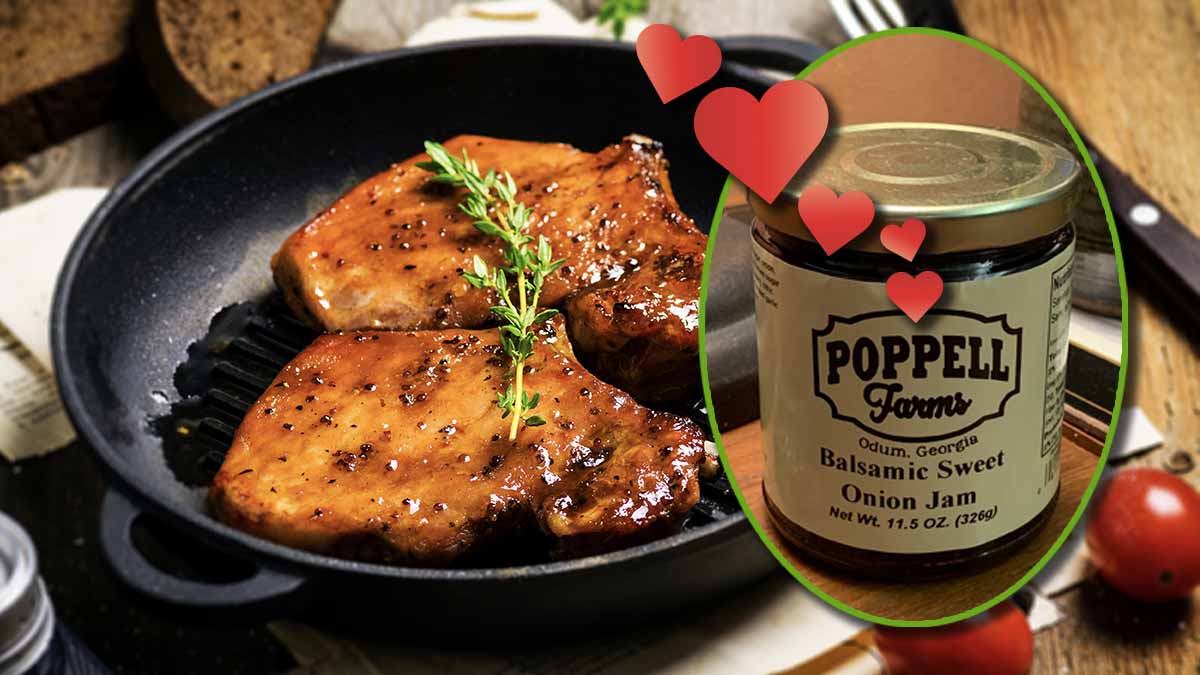 Chops 'n Jam
Have you noticed in fancy restaurants that the servers have memorized a whole entree recipe to recite for you at table side? With all of the ingredients? It makes me giggle and sometimes throws them off their game!
Well, that said — I want to tell you about a dish that I created after getting a jar of Poppell Farms' Balsamic Sweet Onion Jam from their summer market! My mouth is watering already! Here goes:
Put a scant little puddle of olive oil in an iron skillet to heat (medium hot). Thinly slice one shallot (not scallions and not onions) and put it in the oil puddle. When the shallot is fragrant and starts to color, add a generous spoon of minced garlic. For this recipe, I like the stuff that comes in a jar with olive oil. On top of all this, add pork chops — or little medallions of pork loin sliced about one-inch thick. Brown the chops for about 3 minutes on one side and flip. While you are browning them on the other side (3+ minutes), add a spoon of jam to the top of each chop.
I like to carefully remove the chops (and the just-dandy-juices) to a generous piece of aluminum foil and cover for about 10 minutes to let them "finish". When you open to serve, the chops are so juicy/tender and the jam has blended with shallots and garlic. Dare we call it a "reduction"?  Mmmmm, good!
Delightful served with a baked yam and a chunk of sourdough bread!
By Lucy Fagan, Contributing Author